(Click image to download printable PDF)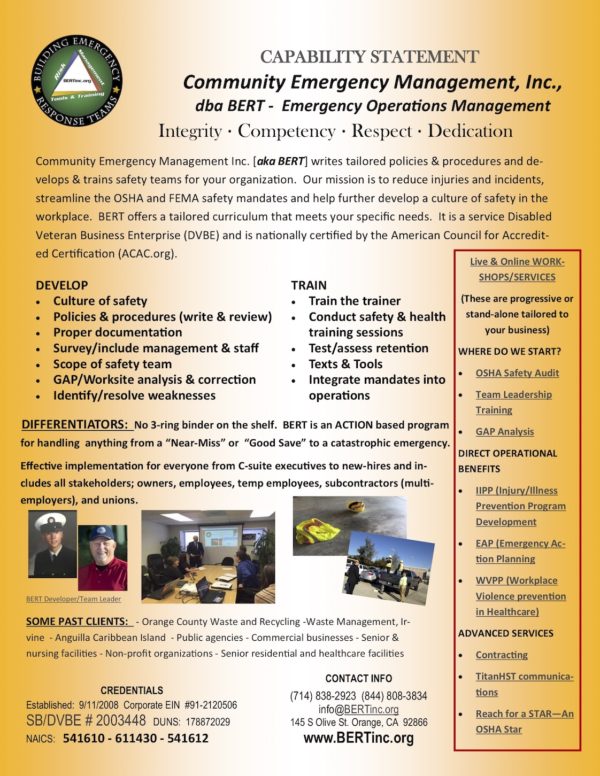 OSHA MANAGEMENT/SAFETY TEAM TRAINING
Establishing a strong, effective safety program means much more than installing an app, complying with OSHA mandates, or the feel-good of having a "Culture of Safety".  It is the preservation of human resources — are our people as safe as possible in any situation?  
Tailor one or more of our live or online

modules/workshops to meet your specific needs
Where do we start? 
OSHA SAFETY AUDIT
Thorough Review of standing systems with an emphasis on COVID-19 recovery plans
CULTURE OF SAFETY LEADERSHIP TRAINING
SAFETY IS A WAY OF THINKING. Train your organizational leaders to train their staff in developing a culture of safety from within
GAP ANALYSIS
How do we measure if our safety program is effective? Discover and analyze gaps in your existing safety programs that could hinder the reduction of your injury rates
OSHA Mandated Plans
IIPP (Injury Illness Prevention Program) Development
Number #1
most common
penalty issued to businesses. It's more than a "binder on a shelf
OSHA EAP (Emergency Action Plan) to preserve resources
OSHA requires an Emergency Action Plan above and beyond first responders. Rely upon instant App-Technology Communications systems for all employees in field or office.
WVPP (Workplace Violence Prevention Programs)
Cal/OSHA Newest Mandate for Healthcare Agencies. Active Shooter training is a start, but OSHA has mandated an effective Workplace Violence Prevention program to address all types of incidents.
Advanced Services
Contracting Services
Do you have an in-house Safety Officer and effective Safety Team? How do you make sure your employees receive quality safety training?
Titan HST Communications Systems
Rely upon instant App-Technology Communications systems for all employees in field or office.
REACH FOR A STAR
Is your organization ready to go above and beyond minimum state requirements? Special emphasis on Cal OSHA Golden Gate, SHARP and VPP-Star | Reach-focused.
OSHA fines could be mitigated or eliminated if your organization can prove that it takes safety seriously.  (More than  binders on the shelf)
Current and past clients 
With over 50 clients, we have trained employees of schools, public agencies, businesses, and non-profit organizations. We have certified over 125 emergency management personnel at Waste Management.  Most recently we worked for Orange County Waste and Recycling, a multi-facility government agency, on safety culture development with a GAP analysis in their effort to begin the achievement of SHARP status — a multi-year effort. We have and are now also training staff and volunteers at senior residential and healthcare facilities.   

Read more on the BERT Facebook Page
DIG DEEPER
Founded in 2001, Community Emergency Management, Inc. dba BERT is a privately held, CA Certified Small Business AND Service Disabled Veteran Enterprise corporation coordinating a team of agents, first responders, software engineers and consultants to deliver a system of operations and emergency management to a business or group of businesses.
BERT is a live and online, ongoing training program for civilian Safety Teams, employees, and their families. Whether handling a simple slip-and-fall or a systemic disaster, BERT teams stabilize the emergency situation until first responders arrive.  As a result, a safety team can reduce response time, and increase situational awareness for everyone.
The best training with the best technology brings the best possible outcome, at the most affordable price.
The EMERGALINK app technology provides for communications, giving clients video incident management from a distance and accounts for virtually 100% of the employees and visitors on a site, virtually instantly. With augmented reality, stranded employees can be located through walls and elevations. For a small-type incident, an AED can be instantly dispatched with pinpoint accuracy. Emergency communications, using translation technology, automatically convert to the language of the receiver's device to eliminate language barriers. Simultaneous text, robocalls & email will ensure that the message is received.
With an ongoing online training curriculum divided into 11 modules, each month Safety Team team members are encouraged to keep the skills sharp to develop, enhance, and maintain the culture of safety in any organization. With OSHA's IIPP (Injury Illness Protection Program) requirements met through BERT implementation, a facility can expect reduced recordable incidents. Near-misses are immediately documented and sent to the safety team for immediate resolution.  BERT provides monthly safety team agendas and focuses questions giving real purpose to the Safety Team.   This is not a downloadable program that is simply printed and put on the shelf.
The safety team is trained in a two-day program; thereby, becoming the SME (Subject Matter Experts) to the rest of the organization.
The EMERGALINK system is scalable. For example, it has served BERT teams in a small senior residential community, waste disposal drivers in a large city, and even an entire Caribbean island nation.  The training ensures that everyone can speak the same safety language, literally and figuratively.
Yet, BERT is customizable and both simple and surprisingly affordable.
Credentials
CA Certified small business AND Disabled Veteran Business Enterprise 2003448
DUNS:  178872029; Incorporation date:  3/26/2001; #91-2120506
NAICS: 54151, 62422, 624230, 611430, 453998, 561210, 922190, 213115, 213112, 611430, 611699, 541612, 541512, 541513, 541611, 541612, 541614, 561110, 922190, 926150, 611710, 624190, 923110, 926150, 541611, 925120
FEMA SID:  0002352592
Accredited training through the American Council for Accredited Certification www.ACAC.org
Insurance provided by CNA Commercial Insurance
e
Documents in hand
Have your Emergency plans, evacuation routes, OSHA Injury Illness Protection Program (IIPP) plans, and any other documents you deem appropriate, instantly into the hands of not only your trained people but First Responders, in any incident big or small in any language. (templates included)
OSHA VPP-Star
BERT is an employee engagement program that provides national credentials, structure, and a business platform to mitigate, document, and respond to anything from a "Near Miss" to a "Good Job" to an OSHA incident or a systemic emergency by enhancing a culture of communications and safety at any facility.
EMERGALINK™
EMERGALINK™ is a cutting edge platform, including mobile phone APP technology, which creates an instantaneous communication system between businesses in your community during and after an emergency. The scalable EMERGALINK program features allow you to send and receive critical information, such as the nature of any incident, a graphic of its precise location, who all may be affected, and who may be sick, injured or missing.
In an emergency, you will be able to make informed decisions as to what to do and how to do it.
As your local EMERGALINK™ team grows you all become a stronger force for good in your community.
At $99/year/user is this a set of tools that can save life and limb, and most importantly …alleviate fear in your community
Be calm | Evaluate Scope of incident | Review for safety | Take Action
NEXT?  Let's get to work