Do you have an Emergency Action Plan (EAP)?
According to CAL-OSHA, an emergency is defined as "a sudden, unforeseen crisis, usually involving danger, which calls for immediate action." The United States, in general, but California in particular, is at risk for many types of natural and man-made emergencies. These include wildfires, earthquakes, acts of terror, and outbreaks of disease and infection, as in the current COVID-19 pandemic. State regulations set minimum requirements for an EAP.
We at BERT have developed a one-of-a-kind emergency training program that combines the best of FEMA's organizational framework based on the Incident Command System (ICS), used nationwide by First-Responders to serve the general public, and CAL-OSHA's guidelines to ensure employee safety during and after an emergency. We tailor our workshops and documentation to meet the needs of your organization. Our delivery is available via live, in-person workshops or via Internet formats.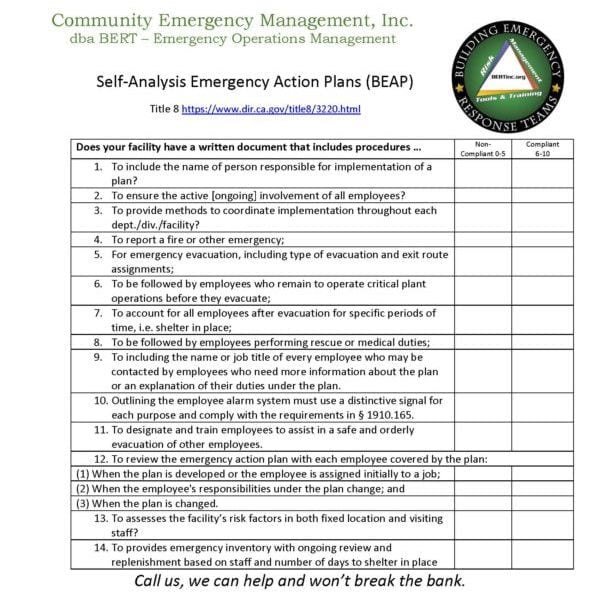 (click image to download printable PDF)
Retail Cost: 
[$495] (c) 2020 Self-Evaluation Questionnaire
[$1,995] Onsite or online four hours of self-discovery interviews of key emergency personnel
[$995] Written Template Plan provided
[$2,995] Onsite or Online Four hours of Basic Training of Managers / Safety Team
[$1,995] Basic written follow-up plan provided for Safety Team to implement