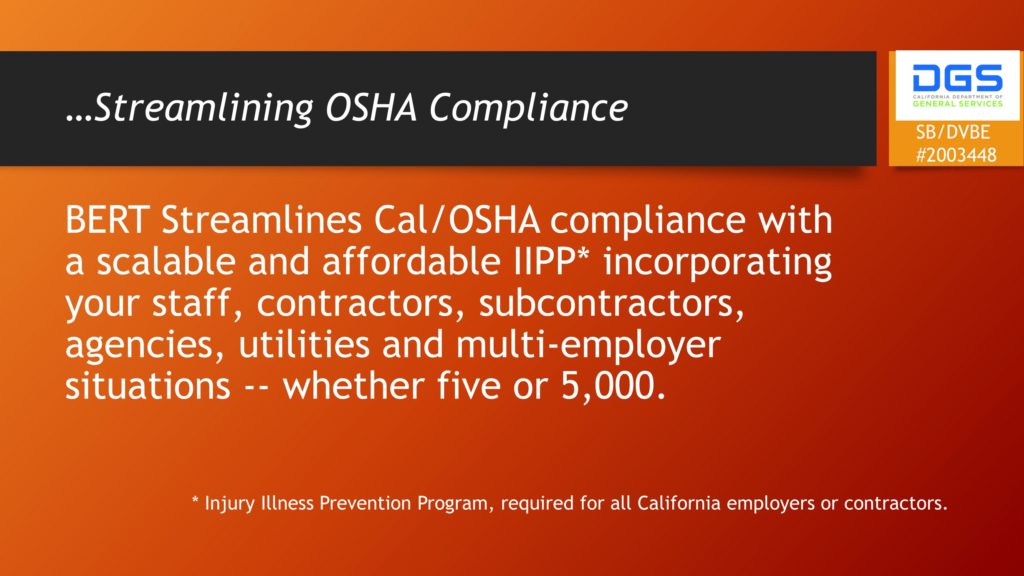 How to reduce Incidents?
Title 8 of the California Code of Regulations (T8CCR) section 3203, requires your Safety Team to be trained, responsible and effective.  NOTE:  We have delivered internationally; we are not limited to California in any way.   
To be effective your IIPP must:
– Fully involve all employees, supervisors, and management
– Identify the specific workplace hazards employees are exposed to
– Correct identified hazards in an appropriate and timely manner
– Provide effective training
– Include ongoing documentation
That's what we do.
BERT is the backbone of an effective Cal/OSHA safety program.  Using next-generation tools and training will streamline any effort.  Using Cal/OSHA's eight elements and 11 effectiveness questions you will have a measurable and effective program in place.
IIPP Element One:  MANAGEMENT COMMITMENT. 
If management is committed, we can help.  
Our clients include the employees of schools, public agencies, businesses, and non-profit organizations. Most-recently 19 businesses and agencies were provided tools and training in the island country of Anguilla.  We Build OSHA Safety Compliance teams at various facilities, and we have also trained staff and volunteers at senior residential communities.   A key part of BERT training includes incident communication tools using a state-of-the-art mobile phone APP.  For more detailed information see Capability
According to speaker at VPPPAix, "..even working towards VPP and all if its benefits, will likely reduce recordable incidents by documenting "Near Miss" recordings. " 
Side benefit:  BERT documents Incidents, Near-Miss and Recognician events using next-generation technology.  This system submits incidents to the safety team for analysis, real time no longer requiring reporting on potentially elusive forms, or having to decipher poor handwriting.

Read more on the BERT Facebook Page