BERT – A Catalyst for Change
With our workshops, your leadership will discover and understand how to infuse OSHA safety concepts and responsibilities into his or her individual sphere of influence, which eventually will permeate throughout the entire organization.
All BERT programs are offered in-person, online, or in a hybrid format, tailored to best meet your needs
Addressing Pandemics (COVID) has been incorporated into all programs
(NOTE: Click on below sliders for workshops and details)
Integrity · Competency · Respect · Dedication
LA TIMES: "Emergency management consultant Bill Cunningham has made the Titan HST app part of preparedness plans and training he devises for businesses, government agencies and other customers.
Cunningham, chief executive of Irvine-based [BERT] Building Emergency Response Teams, got to try the app out sooner than expected in early September with some clients on the Caribbean island of Anguilla, including a hotel, as they braced for a direct hit from Hurricane Irma's 185-mph winds. Cunningham had created a preparedness plan but hadn't had time for a trial run.
The Titan HST app "helped keep track of everyone to make sure they were safe," Cunningham said. "It really worked."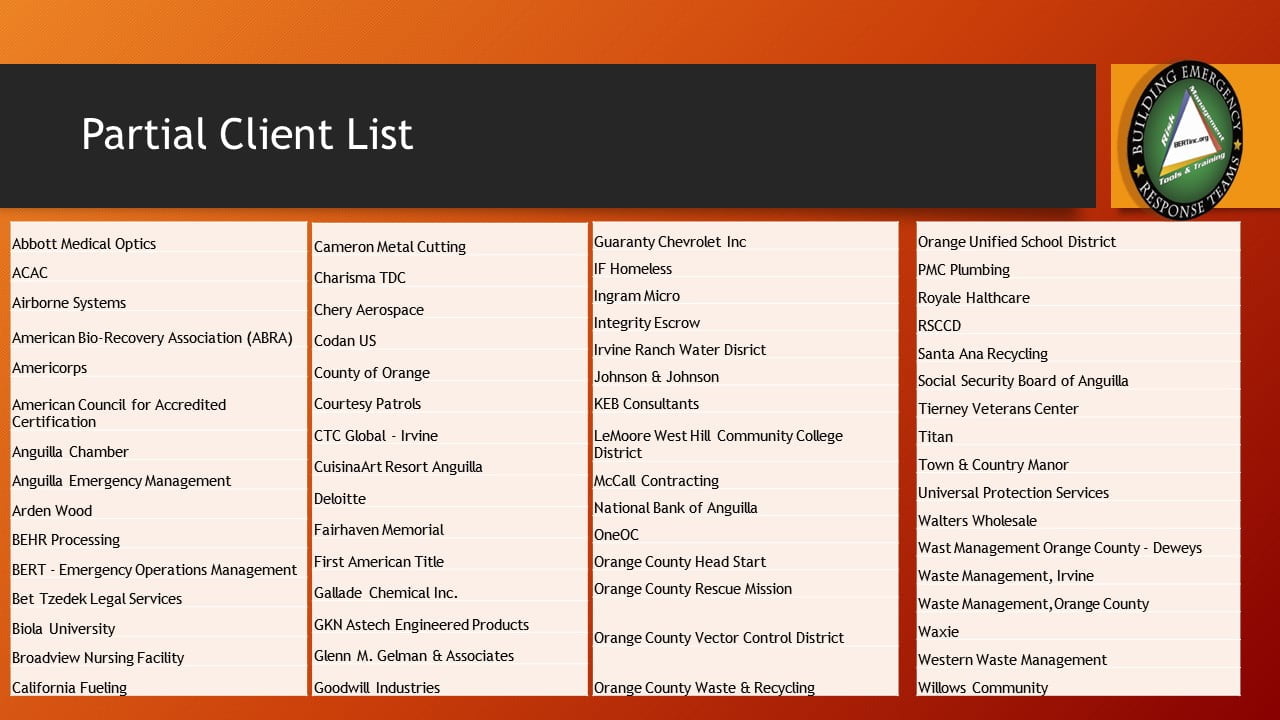 CREDENTIALS
Established: 9/11/2008 • Corporate EIN #91-2120506
Community Emergency Management, Inc. dba BERT – Emergency Operations Management
SB/DVBE # 2003448 • DUNS: 178872029
NAICS: 541610 – 611430 – 541612
CONTACT INFO
(714) 838-2923 / (844) 808-3834
145 S Olive St. Orange, CA 92866