In one hour from right this minute, this, and so much more, could be operational in your entire organization. Another day would not pass without a complete ongoing emergency/safety program in place.  Two-year guaranteed pricing begins from the order date.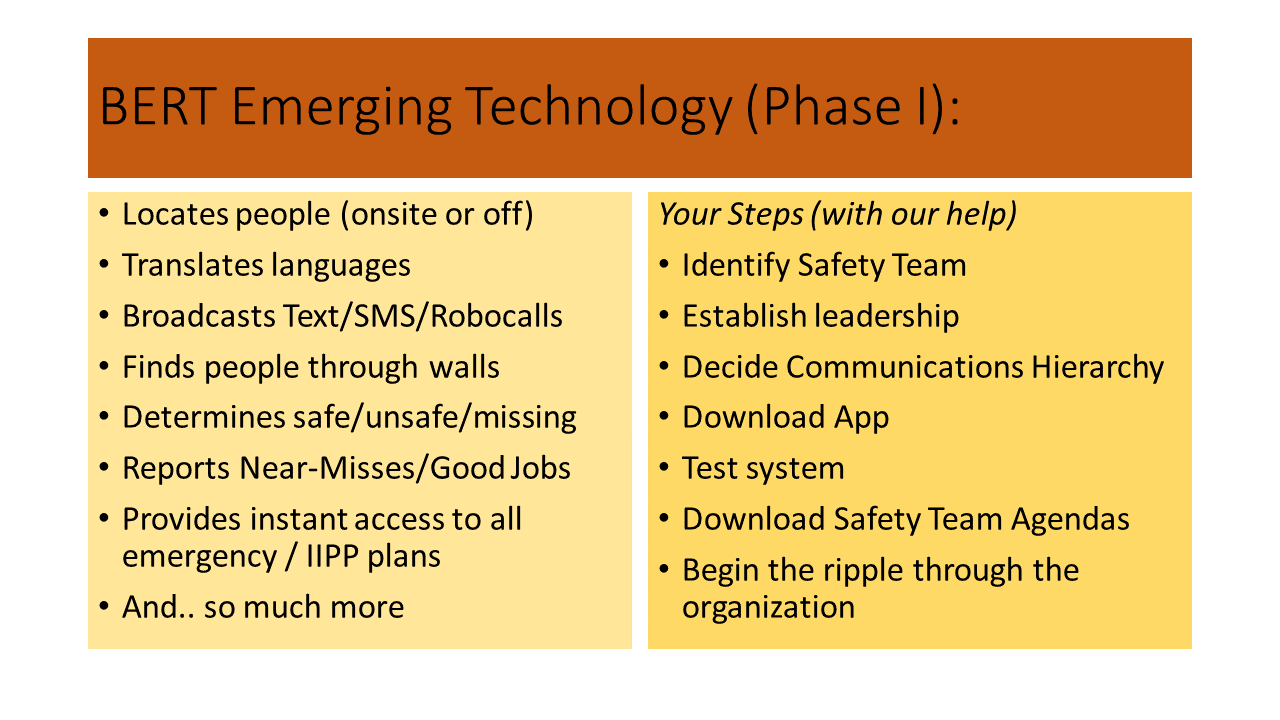 DIG DEEPER
CHAMBERS OF COMMERCE – ASSOCIATIONS
Become a valuable asset to your community by offering a tangible service to current and prospective clients.
Sponsor a BERT training program.  We bring the resources, curriculum & first-responder instructors to you.  You bring your clients and prospects to the training.  We present this totally unique approach to dealing with a systemic emergency such as hurricane, wildfire, mudslide, active shooter, or earthquake.  Your company becomes the go-to resource.
Before going any further, ask yourself:  What is the value of your colleagues going through important training together with you?  How can you be the catalyst to teach 10, 100, 1,000 in the next month how to take care of themselves, their families, and their businesses until first responders arrive, and help develop how to recover to normal operations after they leave.  Businesses are the heart-blood of any community.  In order for your community to thrive after any incident, a return to business as normal is imperative.
Graduates receive a personalized monthly newsletter BERT-DAY of emergency planning with YOUR NAME at the top by-line.  You become a resource for them…
BERT Team – A scalable group inside a business made up of BERT-trained Professionals       (Executives), Managers, and Coordinators (staff) to develop and enhance a culture of safety in the workplace allowing them to instantly react to any emergency situation in any from a simple OSHA-reportable mishap to a systemic, community-wide catastrophe.
EMERGALINK™ – Our community Emergency Link program which brings multiple locations together to assist each other in the event that first responders are delayed. Read more details about EMERGALINK™
 SCOPE:
Six-hour online training course (English & Spanish).
Two year subscription to the Titan HST emergency app, including:

Employee location status (when employee triggers emergency alert request), one-touch lock-down, group mobile chat, & population status check in.  (Note:  It can be used for general company-wide communications as well)
Retrievable incident reports
Up-loadable site-specific PDF documents and general staff-wide communications

Free family access to course (not incl. app).
CBT pricing  / BERT team member (incl. app).
Optional Hybrid/Live class supervision (min. 25)
Scalable – No minimum or maximum NOTE: the more team members involved, the larger the OSHA "culture of safety" becomes at your facility.
Third-party Certification by ACAC.org; examinations are compliant with standards published by APA, AERA and NCME and ACAC is a member of the Institute for Credentialing Excellence (ICE), formerly known as NOCA.
Continuing Education Units applicable to any ACAC credential and to many other professional organizations.
EMERGALINK™ ties neighboring BERT-trained businesses and first responders together as they come online.
NEXT?   <Click> to answer 10-questions and receive confidential, no obligation proposal.  Or email info@bertinc.org for more information.